Marrowbone Plantation
Marrowbone was built by Robert Hairston (c.1717-c.1791). He was one of the three sons of Peter, the first Hairston to come to America. Peter Hairston and his three sons Robert, Andrew and Samuel arrived in Virginia about 1740. The Marrowbone home is a frame house and is believed to be the oldest frame house in the county. It has a graceful staircase, tall windows and ornamental woodwork, with smooth green lawns sloping down to Marrowbone Creek.  They formed three terraces, which were filled with flowers and bordered with boxwood. The shuttered windows also boasted circles of boxwood beneath each.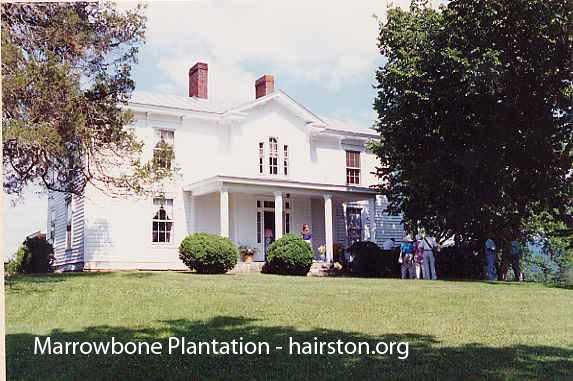 Photo taken at family reunion in 1990 by Robert E. Hairston, Jr.
Robert Hairston and Ruth Stovall were married in Albermarle County, Virginia about 1749. Robert represented Bedford County in the House of Burgesses and was a Lieutenant in the Pittsylvania Militia during the French and Indian Wars. He was also one of the first sheriffs of Henry County being appointed in January of 1782. Robert and Ruth Hairston had twelve children, and the house was left to the oldest son George. It then descended from father to son to the fifth generation of George Hairstons.  
The Hairston Family Reunion visited Marrowbone in 1990 and the home appeared to be in excellent condition. 
There is a small graveyard near the house with a few old graves. There was survey done in 1937 by H. C. Field that indicated there were 11 graves in this cemetery:  "The family burying ground is about five hundred yards from the house, and is enclosed by a iron fence.  Same is not very well kept, and is in very bad condition today; most of the stone markers have fallen down and many excavations are exposed.  There are only eleven graves in this small burying ground.  No one lives in the old home today.  The only inscription that could be read is the following. Sacred to the memory of Ruth A. Infant daughter of S. S. and M. M. Hairston Died Oct. 6, 1854 "She exchanged the joys of earth for the joys of heaven"."