Hairston Crest
Coat of Arms of William Hairstanes of Craigs
In Scotland, the Court of the Lord Lyon, King of Arms is a Minister of the Crown and as such establishes the rights to arms and pedigrees.  In 1720 the Coat of Arms shown below was registered to William Hairstanes of Craigs with the inscription "Toujours Fidele" meaning "Always Faithful".  Family stories say that the three keys represent the keys used to open the box containing the heart of Robert the Bruce that is buried in Melrose Abbey in Melrose, Scotland.
William Hairstanes was granted the title the "Laird of Craigs" in Dumfrieshire, Scotland in a charter granted by King Charles II to Williams grandfather John Hairstanes.  A laird is an owner of an estate and is a member of Scottish gentry - "Landed Gentry".  A Laird ranks below a Baron and the designation is lost when the land is sold.  William was never Titled or Knighted as a Sir and was not addressed as Sir William Hairstanes.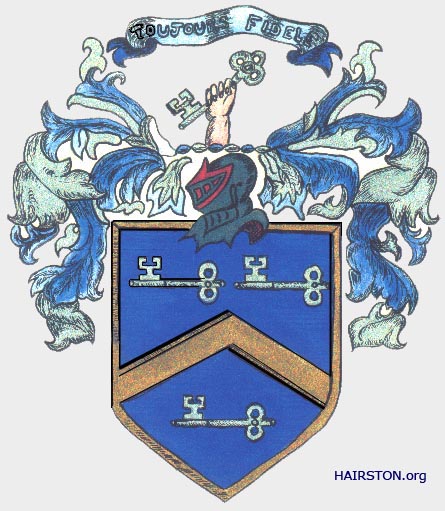 "Toujours Fidele"
-----
A Scottish Coat of Arms can only belong to one person at a time.  With specific rules a son can obtain his father's Coat of Arms, generally after the father's death.  However today, it seems that everyone calls it a "Hairston Family Coat of Arms".
I have not found any genealogical proof that connects the descendants of William Hairstanes to Peter Hairston "The Immigrant" and his descendants in America.