IRELAND
In July of 2012 I spent a week in Belfast, Northern Ireland researching the Hairston family.  I arrived in Belfast on July 4 and checked in to the Hotel Europa in downtown Belfast about 10:30 at night and it was still light outside.  The Hotel Europa is next door to the train and bus stations and across the street from the Crown Bar that first served beer in 1849.  I was told that The Hotel Europa is also the most bombed hotel in Europe.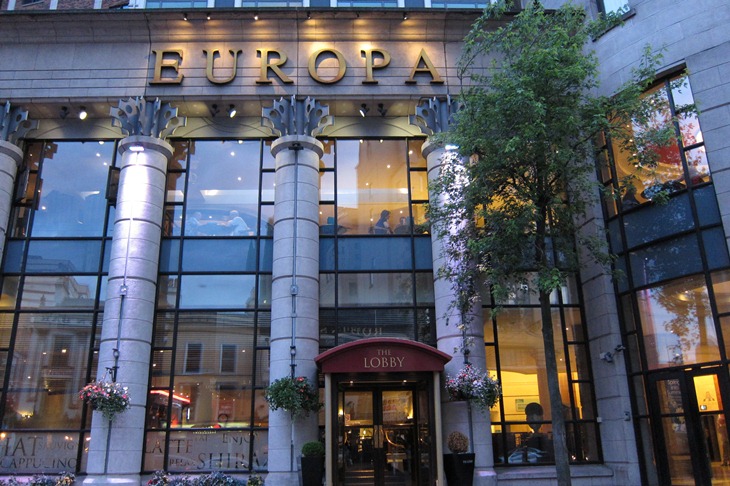 Europa Hotel in Belfast, Northern ireland
Northern Ireland was partitioned from the Republic of Ireland in 1921, is part of the United Kingdom and the city of Belfast is the capital. The Republic of Ireland, which is located mostly to the south and west of Northern Ireland, is a sovereign country and it's capital is Dublin.
The next morning I caught a city bus to the PRONI (Public Records Office of Northern Ireland) located a few miles from the hotel.  It is located across the street from the shipyard where the Titanic was built.  The PRONI is housed in a beautiful new building and is the "official archive for Northern Ireland".  Everyone I talked with during my many visits were extremely nice.  After checking in, you start your research in a large room full of computer terminals and microfilm readers.  When you locate an item, it is brought to you in a separate secure reading room. 
PRONI - Public Records Office of Northern Ireland
In 1867, Ireland required that all old government and church records be moved to Dublin for safe keeping.  They were stored in Dublin in the Four Courts building.  Unfortunately, nearly all the old records (birth, marriage, death, church, land, court) were destroyed when the Four Courts building was burned in 1922 during the Battle of Dublin at the start of the Irish Civil War.  Therefore, genealogical records are hard to find and in many cases will never be found.  There are still many records to search through in Ireland.  Some churchs and government bodies kept copies or did not send their records to Dublin.  Also private estates kept many records over the years and these are slowly becoming available to the public.
I spent all of Wednesday looking for any records pertaining to Hairston or it's various spellings and found nothing closer than Houston.  I wrote the various spellings on a sheet of paper and checked off each one as I did a search.  Hairston, Hairstones, Haristone, etc. were all checked.  I then started using the wildcard character * and still did not get any results.  In many search engines you can search for Hairst* and the results page will give you Hairston, Harstones, Hairstanes, Hairstons, etc.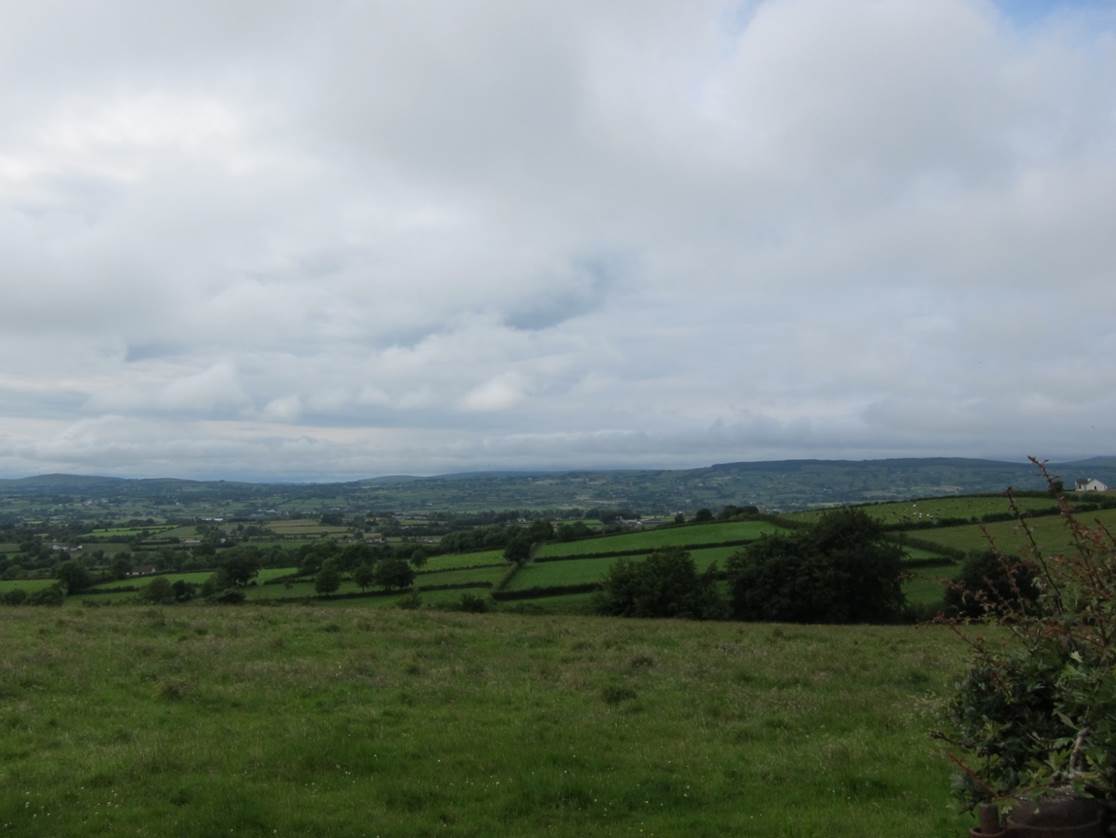 Land leased by Peter Hairston in Straidnahanna, Northern Ireland
 Again on Thursday, I searched for Hairston and the variations on the computers with no luck. 
On Friday I was losing hope when I started going through the microflim records looking for the "needle in a haystack".  Please note the microfilm records are copies of hand written sheets of paper that are three hundred years old and are written in English, Gaelic or Latin - sometimes all 3 on the same page.  They are very hard to read.
Later Friday I typed the following into a search computer -  Peter H* .  I expected the results to be many thousands of records and nothing pertaining to Hairston.  It turns out I got about a dozen hits and the first two were Peter Haristones.  About 30 minutes later I was holding the original parchment document that Peter Hairstons signed on the 16th of August 1726.  The document was signed 286 years ago and is in excellent condition.  In the document Peter's last name is spelled Hairstons and Hairstones, but not Haristones.  The person that typed the computer listing transposed the letters "R" and "I" in the spelling of Hairstones.
Saturday I took the train to Carrickfergus and then visited Straidnahanna and surrounding area.  One of the most interesting things I found out was that Carrickfergus is only about 14 miles from the coast of Scotland.  You can see Scotland from Carrickfergus.  A short boat trip even in 1726.  
The documents I found were a lease for land and a memorandum to the lease dated in 1726 between a land owner Sir Robert Adair and three men; Peter Hairstones, Andrew Allett and William Owens.  The lease was for 120 years at a yearly rate of 14 pounds, 2 shillings and 6 pence sterling.  The piece of property leased was called the Belly and was formerly rented by John Todd.
Some of the specific information on the lease;
1.  Sir Robert Adair of Bellymonia (Ballymena) and the County of Antrim
2.  Peter Hairstons (Hairstones) - Straidnahanna, parish of Bellyclair and the liberty of
Carrickfergus
- signed with his mark
3.  Andrew Allett (Eliott) - Maxwell Walls, parish of Connor - I found no additional records of Andrew Allett
4.  William Owens - Sylinchy (?), parish of Ballyclair (Ballyclare), there is another farm lease from Sir Robert Adair to William Owens, farmer, for 150 acres in the town land of Bally, and manor of Killhillstown alias Ballymena for 86 years, dated 17 June 1731.  It would appear that William Owens did not leave Ireland with Peter Hairstones.
5.  John Todd - former tenant
6.  witnesses to contract - William Johnston, Robert Chil____, and Thomas Adair
2012 Ireland Research Trip